Archive for June, 2010
This map traces gravity's force on Earth and tells us which way is "up" or "down," literally. The red portions of the map represent areas where gravity's pull is the highest and the deep blue represents areas of lower gravitational force. The date holds quite large implications for oceanographers, geophysicists and even construction contractors, as the above-linked article notes. Here is the map:
Ever wonder what a World Cup soccer team might look like if the roster was filled entirely with NFL players? Probably not, but this blog does some speculating for us. We know that, by and large, here in America, the nation's best athletes are probably playing American football, hockey or basketball, and are not funneled toward soccer careers.
Soccer players are highly athletic, for sure, but given soccer's still-lagging stance in comparison to other sports, it's safe to say that our top athletes aren't soccer players. Of this country's nine World Cup appearances since 1930, third place is the team's best finish so far. But that result, which actually took place in 1930, long escapes nearly everyone alive today. Nonetheless, here is the blog writer's NFL-infused World Cup roster.
Goalkeeper: Larry Fitzgerald
Defenders: Ed Reed, Patrick Willis, Adrian Peterson and Maurice-Jones Drew
Midfielders: Tom Brady, D. Heyward-Bay, Nnambi Asomugha and Chad Ochocinco
Strikers: Vince Young, Andre Johnson and Michael Vick.
Not a bad list, and I think Fitzgerald would make a beast of a keep. I think these players should get some sort of nod as well: Randy Moss, Steven Jackson, Frank Gore, Beanie Wells and Drew Brees.
By the way, four NFL players, Peterson, Tommie Harris, Roy Williams and Mark Clayton have, indeed, kicked the soccer ball around on a recent trip to South Africa:
The visit included a friendly soccer game against school children from Mzamomhle Primary School in the township of Philippi on the outskirts of Cape Town.
No doubt, the NFL players got toasted by the young futbol hopefuls.
[Photo credit: Schalk van Zuydam/Associated Press]
So far, counterinsurgency has succeeded only in creating a never-ending demand for the primary product supplied by the military: perpetual war. There is a reason that President Obama studiously avoids using the word "victory" when he talks about Afghanistan. Winning, it would seem, is not really possible. Not even with Stanley McChrystal in charge. — "The Runaway General," Michael Hastings, Rolling Stone, June 25 edition
And now, before the above prophetic story even hits newsstands, McChrystal is no longer the man in charge. But it's not clear that under the once-again leadership of Gen. David Patraeus, the war in Afghanistan is any more winnable.
Much has been made of McChrystal's remarks in the above story about top senior leadership in Washington, none greater than that of the Obama administration, which today relieved the former general of his duties. Thus, the above article, while an informative and, for most part, well-reported vignette of the man once leading the United States' counterinsurgency efforts in Afghanistan is irrelevant, at least as it relates to McChrystal. And again, before it even hits newsstands.
Despite all the hullabaloo about the story this week, the most interesting and meaningful portions of it aren't about McChrystal at all but about the increasingly stalled, some would say, failed, efforts in that war-torn nation. No one knows where Osama Bin Laden, the mastermind behind 9/11, is hiding. Probably in a hole somewhere safe and sound in the hills of Pakistan. He is almost certainly not in Afghanistan. So, why are we?
Quite simply, as everyone surely remembers, he and his hysteric followers were there once. Just not anymore. Now, and here's one similarity to Iraq, we are there in a nasty stew with nary an exit in sight.
"Into the breach," as The New York Times phrased a headline today, comes Patraeus, to help reverse deteriorating circumstances once again. The key difference?
In Iraq, General Petraeus was called in to reverse a failed strategy put in place by previous commanders. In Afghanistan, General Petraeus was instrumental in developing and executing the strategy in partnership with Gen. Stanley A. McChrystal, who carried it out on the ground. Now General Petraeus will be directly responsible for its success or failure, risking the reputation he built in Iraq.
Not very heartening. The referenced strategy is a carry-a-stick-lightly counterinsurgency that mostly prohibits using firepower in order to ensure increased protection of civilians, this, much to the chagrin of soldiers, making them almost analogous to powerless cops.
According to Hastings' article:
One soldier shows me the list of new regulations the platoon was given. "Patrol only in areas that you are reasonably certain that you will not have to defend yourselves with lethal force," the laminated card reads. For a soldier who has traveled halfway around the world to fight, that's like telling a cop he should only patrol in areas where he knows he won't have to make arrests. "Does that make any fucking sense?" asks Pfc. Jared Pautsch. "We should just drop a fucking bomb on this place. You sit and ask yourself: What are we doing here?"
That crude Hiroshima/nuke reference notwithstanding, we can only hope that Patraeus' other characteristics will win the day. Here, The Times attempts to lay the path:
By helping to pull Iraq back from the edge, General Petraeus won a reputation as a resourceful, unorthodox commander and has since been mentioned as a candidate for president.

But Afghanistan is a very different war in a very different country. Where Iraq is an urban, oil-rich country with an educated middle class, Afghanistan is a shattered state whose social fabric and physical infrastructure has been ruined by three decades of war. In Iraq, the insurgency was in the cities; here, it is spread across the mountains and deserts of the country's forbidding countryside.

Indeed, to prevail in Afghanistan, General Petraeus will need all of his skills — and a dose of good fortune at least as big as the one he received in Iraq. At the moment, every aspect of the war in Afghanistan is going badly: the military's campaign in the strategic city of Kandahar has met with widespread resistance from the Afghan public; President Hamid Karzai is proving erratic and unpredictable; and the Taliban are resisting more tenaciously than ever.

To turn the tide, General Petraeus will almost certainly continue the counterinsurgency strategy he devised with General McChrystal: protecting Afghan civilians, separating them from insurgents and winning public support. But he will also have to convince his own troops, who are increasingly angry about the restrictions on using firepower imposed to protect civilians.

And General Petraeus will probably also try to employ some of the same novel tactics that worked so well in Iraq. Most notably, he will continue to coax Taliban fighters away from the insurgency with promises of jobs and security. And he may even try to strike deals with senior leaders of the Taliban as well as with the military and intelligence services in Pakistan.

A former aide to General Petraeus in Iraq who is now in Afghanistan put it this way: "The policy is to make everyone feel safer, reconcile with those who are willing and kill the people you need to."
Some folks in high offices seem to have no idea about the ethical and moral implications behind conflicts of interest, or they don't care. I would wager the latter.
The latest oil industry supporter masquerading as a public servant could be U.S. District Judge Martin Feldman, a 1983 Ronad Reagan appointee, who on Tuesday, overturned an offshore drilling moratorium in the Gulf imposed by the Obama administration. The drilling ban would have guaranteed that no other rigs had the chance to fail or that no other oil-related incidents would have taken place until we: A) get the current leak completely contained and B) by whatever means necessary, ensure it never happens again.
As it turns out, Feldman owns about $15,000 in Transocean Ltd. stock. Transocean, of course, is the company that owned the Deepwater Horizon (Unfortunately for him, the stock has dropped 27 points in the last year). Also, according to The Associated Press:
Feldman's 2008 financial disclosure report – the most recent available – also showed investments in Ocean Energy, a Houston-based company, as well as Quicksilver Resources, Prospect Energy, Peabody Energy, Halliburton, Pengrowth Energy Trust, Atlas Energy Resources, Parker Drilling and others. Halliburton was also involved in the doomed Deepwater Horizon project.
Feldman wrote in his ruling:
If some drilling equipment parts are flawed, is it rational to say all are? Are all airplanes a danger because one was? All oil tankers like Exxon Valdez? All trains? All mines? That sort of thinking seems heavy-handed, and rather overbearing.
No it's not rational. Of course all rigs aren't flawed. That's not the assertion. The assertion is that oil companies are operating potentially volatile rigs without having adequate contingency plans in the event of an emergency. How catastrophic would it be in the unlikely, but theoretically possible, event that some other piece of equipment fails on some other rig, thereby sending more oil into the ocean? Worse, when signs of an impending problem do crop up, warning signs are apparently ignored and special permissions made to keep the oil flowing despite company policies to the contrary. After all, it's their money to lose if they don't.
Rep. Joe Barton, of course, would be the formerly mentioned public servant holding the above honorary title, who apologized to BP execs, and then pathetically apologized for his own apology. He is the top recipient of funds from oil and industry individuals and political action committees in the House.
As for the moratorium ruling, the administration plans to appeal:
Interior Secretary Ken Salazar said that within days he would issue a new order imposing a moratorium on deep-water drilling that would contain additional information showing why it was necessary.
I didn't catch it earlier, but Feb. 13 2010 marked the 20th anniversary of the now-famous Pale Blue Dot photograph taken from the Voyager 1 some 3.7 billion miles away from Earth. The faint blue speck to the right and inset, that's our planet.
I found this site today, which references the anniversary and an extraordinary and humbling quote from former author and astronomer Carl Sagan (1934-1996):
Look again at that dot. That's here. That's home. That's us. On it everyone you love, everyone you know, everyone you ever heard of, every human being who ever was, lived out their lives. The aggregate of our joy and suffering, thousands of confident religions, ideologies, and economic doctrines, every hunter and forager, every hero and coward, every creator and destroyer of civilization, every king and peasant, every young couple in love, every mother and father, hopeful child, inventor and explorer, every teacher of morals, every corrupt politician, every 'superstar,' every 'supreme leader,' every saint and sinner in the history of our species lived there — on a mote of dust suspended in a sunbeam.

The Earth is a very small stage in a vast cosmic arena. Think of the rivers of blood spilled by all those generals and emperors so that, in glory and triumph, they could become the momentary masters of a fraction of a dot. Think of the endless cruelties visited by the inhabitants of one corner of this pixel on the scarcely distinguishable inhabitants of some other corner, how frequent their misunderstandings, how eager they are to kill one another, how fervent their hatreds.

Our posturings, our imagined self-importance, the delusion that we have some privileged position in the Universe, are challenged by this point of pale light. Our planet is a lonely speck in the great enveloping cosmic dark. In our obscurity, in all this vastness, there is no hint that help will come from elsewhere to save us from ourselves.

The Earth is the only world known so far to harbor life. There is nowhere else, at least in the near future, to which our species could migrate. Visit, yes. Settle, not yet. Like it or not, for the moment the Earth is where we make our stand.

It has been said that astronomy is a humbling and character-building experience. There is perhaps no better demonstration of the folly of human conceits than this distant image of our tiny world. To me, it underscores our responsibility to deal more kindly with one another, and to preserve and cherish the pale blue dot, the only home we've ever known.
[Original caption: This narrow-angle color image of the Earth, dubbed 'Pale Blue Dot', is a part of the first ever 'portrait' of the solar system taken byVoyager 1. The spacecraft acquired a total of 60 frames for a mosaic of the solar system from a distance of more than 4 billion miles from Earth and about 32 degrees above the ecliptic. From Voyager's great distance Earth is a mere point of light, less than the size of a picture element even in the narrow-angle camera. Earth was a crescent only 0.12 pixel in size. Coincidentally, Earth lies right in the center of one of the scattered light rays resulting from taking the image so close to the sun. This blown-up image of the Earth was taken through three color filters – violet, blue and green – and recombined to produce the color image. The background features in the image are artifacts resulting from the magnification.]
StumbledUpon this fascinating tool called Buzztracker that maps relationships between news stories and locations across the world. A map is generated each day using the top articles in global coverage and then in connect-the-dots fashion, shows viewers the proceeding web of interrelationships. Thus, for instance, stories about Gaza appearing in newspapers from across the world also saw associations with Washington, D.C., London, New York and seven other places. Connectedness with Washington, D.C., was at 29 percent as it relates to Gaza, while connectedness with Zahedan was only at 5 percent as Zahedan relates to Gaza. Confusing at first but when you see the map, it makes more sense.
Here is the map for June 20. You can click on each red dot to see related stories and stats.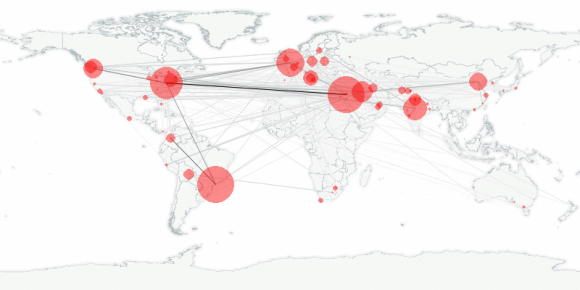 Isn't it convenient that in matters about the economy, fiscal restraint and pulling back the federal government's power, Tea Party types pore over the Constitution looking for ways to pick apart their opponents bit-by-bit? But ah!, when it comes to folks of color, that's another matter altogether. They then cut to the quick, ignore what the founding document actually says on the topic of immigration and throw off their own humanity.
The New York Times reported June 18 that the Obama administration would fight the recently passed Arizona immigration law, saying that it infringes on the Constitution, while proponents of the administration make the claim that Obama is attempting to infringe on state's rights.
This issue is actually very simple according to the 14th Amendment:
No State shall make or enforce any law which shall abridge the privileges or immunities of citizens of the United States; nor shall any State deprive any person of life, liberty, or property, without due process of law; nor deny to any person within its jurisdiction the equal protection of the laws.
States don't confer citizenship nor do they have the power to deport anyone. (When I read letters to the editor directed toward my newspaper or more national ones, I wince when I see a reader calling a resident of such-and-such state or county a "citizen" of that county or state. Counties and states have no authority on the matter of citizenship. It's a literally meaningless exercise to use that word in a context other than on topics of naturalization.)
The Arizona bill makes it a state crime to be in the U.S. illegally. But that's redundant. It's already a federal crime, and federal law takes precedence over state law according to the 14th amendment. True, the amendment says states can't make any laws that "abridge" on the rights of citizens of the nation, but a semicolon later, and we find that
nor shall any State deprive any person of life, liberty, or property, without due process of law.
Another semicolon later and we have:
nor deny to any person within its jurisdiction the equal protection of the laws.
Now, some type of case could probably be made as to whether "person" means citizen or just any person, but the amendment is unambiguous in indicating that the federal government alone confers citizenship and determines who comes and who stays. And even illegals deserve due process of law like anyone else. They are, after all, human beings with pulses and wives and husbands and sons and daughters with people back home who love them. Or have we forgotten that?
In one of its smartest moves, and there haven't been many, or any, since the Gulf oil spill disaster, BP has dethroned the haughty and shockingly nonchalant Tony Hayward from his duties of day-to-day overseer of the cleanup and rig-mending efforts.
According to the above linked report from Yahoo News:
The main reason for the shift is plain enough for anyone who's been following the spill: BP executives acknowledge that as the company's face during the crisis, Hayward has blown it. (BP chairman Carl-Henric) Svanberg, while defending the BP CEO, acknowledged that Hayward's comments have not been helpful to the company's efforts to control fallout from the disaster.

"It is clear Tony has made remarks that have upset people," Svanberg tells Sky News. "This has now turned into a reputation matter, financial and political, and that is why you will now see more of me."
Great! We can only hope you have infinitely more heart and competency than the last bloke.
Even when the subject is forced, or violently forced, Paul McCartney has proven to be nearly incapable of writing a bad tune.
Many musical artists have addressed the Bloody Sunday incident — Jan. 30, 1972 — that left 26 unarmed Civil Rights protesters and others shot by British soldiers. But McCartney's offering shortly following the tragedy was banned by the BBC and only reached number 16 in the UK singles charts, while, not surprisingly, it reached number one in the Republic of Ireland and Spain. So much for freedom of speech in Britain in the 1970s.
British Prime Minister David Cameron issued a statement this week in the House of Commons that called the Bloody Sunday shootings "both unjustified and unjustifiable."
What happened should never, ever have happened. The families of those who died should not have had to live with the pain and hurt of that day, and a lifetime of loss. Some members of our armed forces acted wrongly. The government is ultimately responsible for the conduct of the armed forces. And for that, on behalf of the government — and indeed our country — I am deeply sorry.
As for McCartney, the incident was clearly troubling — for John Lennon as well — (The entire stew of conflict in Northern Ireland dating back to 1969 between nationalists, a politicized word for Catholics, and unionists, a politicized word for Protestants, is nicknamed The Troubles) for a country that appeared to be based on the principles of human freedom and civil rights. At the time, McCartney said:
I don't now plan to do everything I do as a political thing, but just on this one occasion I think the British government overstepped their mark and showed themselves to be more of a sort of repressive regime than I ever believed them to be.
Here's a video of the song:
Even if it's pure fiction, at least it's interesting.
Playboy today has released a fascinating first-person, albeit, anonymous, account of the real nuts and bolts behind the Tea Party movement. And this isn't your grandmother's Tea Party. I would suspect that it's of the same cast as that of folks over at reteaparty.com, with whom I've debated in the past. Although, the website doesn't seem to be working at the moment, here is the Twitter page.
When I say it's not your grandmother's Tea Party, I mean to say that party advocates are young, intelligent, plugged in and not terribly moving along the straight and narrow. They use slang and vulgarities and carouse in seedy dives. At least that's the picture delivered from the above referenced Tea Party consultant, who on page 2 of this treatise said:
I get out of Washington whenever possible, especially during tourist season. In late spring I visited a Tea Party rally in suburban St. Louis. It was what you would imagine: angst-ridden Caucasians sitting in lawn chairs with signs such as My daughter is nine and already $41,000 in debt. It was not an angry crowd, and in all candor I never heard a racist word uttered.

The speeches went on for hours. The sun was shining. It was the kind of day when you could take a nap under a tree. The organizer had personally delivered about a thousand activists. It was her big day. Two hours into the speeches she sat down on the warm grass next to me at the back of the rally and said, "This is the perfect day. Now all I need is a joint." That tells you everything you need to know about my friends.

We are tremendously plugged in to BigGovernment.com and its stable of writers. Our news cycle is measured in minutes, not days. Combine the DNA of a flash mob, a news addict and a con servative (sic?) who feels betrayed by the spending excesses of George W. Bush, sprinkle in some anxiety and you've got my people.
To read that second paragraph sounds like something straight out of the sun-soaked, extraordinary and existential, "The Stranger," which I recently finished reading … again.
To read the third paragraph is to crash into a non sequitur. The author is "tremendously plugged in to BigGovernment.com yet is "betrayed" by Bush's excesses, the president who spiraled us into gigantic debt with his war against Saddam? Which, if it does nothing else, smacks of big government.
The speaker continues near the end of his short memoir:
The inner core of Tea Party consultants I work with don't like to see their names in the news, but we do enjoy a good dark bar. Nearly all are based far from the Beltway. Imagine the rooftop deck of a D.C. steakhouse with about 40 Tea Party celebrities. It's not the stuffy crowd that usually congregates at Morton's. Picture Breitbart holding court with donors in one corner and fake ACORN hooker Hannah Giles in another (too young to drink legally at the time), talking with the even younger doe-eyed, homeschooled daughter of a prominent activist. Though it had been a month since Washington's last snowfall, the rooftop deck still had piles of snow, allowing Maura Flynn to start the first-ever snowball fight inside Morton's bar. Welcome to my Tea Party party.

We make a sport out of confusing the press. I had fake business cards printed to give to reporters. I watched a reporter walk out of a Conservative Political Action Conference reception in mid-February with a fistful of my faux business cards. Feeling a little guilty I told him not to file a story immediately because it would be guaranteed to be dead wrong. He finally published it a month later, after one of our friends charitably spent three hours with him.

…

Causing mayhem is not limited to dealing with the press. We've quietly acquired Service Employees International Union shirts to wear at Tea Party rallies. For big labor, that's like handing out TSA uniforms in Kabul. And at a rally in St. Louis this March, fake SEIU protesters joined the Tea Party protest.

Various Republican congressional leaders met for hours with our leadership and our finance team in the Richard Nixon suite at the Omni Shoreham Hotel in Washington. Never in my career had I had a congressman look me in the eyes behind closed doors and say with such sincerity, "Give me a list of what you need me to do." The second meeting drew 10 congressmen. There we sat, inside the Capitol Hill Club (which shares the building that houses the Republican National Committee), sharing ideas on how we can work together. The third meeting drew 17 congressmen. We'll see help with fundraising and research from friendly members of Congress. It's what you won't see that's more important. Our role is to quietly help a dozen grassroots conservative candidates win in the fall, using traditional and nontraditional means. If you don't hear from us directly, we will have done our job.
Of course, I must mention that if any of this is written by an actual Tea Party "insider," whatever that means, I will be very surprised. I do imagine that there might be some sort of underground Tea Party proletariate lurking somewhere behind the hysterical public message of Sarah Palin and others, but the "anonymity" of this particular speaker is troubling. Folks can say anything, after all, behind the vale of anonymity. That's why we newspaper types and reputable information outlets require that letters to the editor and other reader-created works are accompanied by a name and town, to hold folks accountable for what they say. For, to be sure, if a person isn't willing to put their name behind their own thoughts, it first, drapes a curtain of doubt over the whole thing, and second, allows the speaker to hide behind it.
The best I can say, I suppose, is that the graphic accompanying the story (shown) is exquisite.