Archive for the 'abraham lincoln' tag
4870without commentshttp%3A%2F%2Fwww.jeremystyron.com%2F2011%2F06%2Fbook-review-tried-by-war%2FBook+review%3A+%22Tried+by+War%222011-07-01+03%3A38%3A43Jeremyhttp%3A%2F%2Fwww.jeremystyron.com%2F%3Fp%3D4870
The issue of national sovereignty of the United States over the states is "indistinct, simple, and inflexible. … It is an issue which can only be tried by war, and decided by victory." — Abraham Lincoln, 1864
"If Lincoln had been a failure, he would have lived a longer life." — James McPherson on John Wilkes Booth's promise to "put him through" while listening to a victory speech from Lincoln on April 11, 1865
***
"Tried by War: Abraham Lincoln as Commander in Chief" is the second book I have read by James McPherson, the other being the invaluable "Battle Cry of Freedom: The Civil War Era."
Unlike other Lincoln biographies, which typically focus on his stance and political efforts to abolish slavery, his assassination, his humble upbringings and other topics, few, as McPherson points out, have delved specifically into Lincoln's role as commander in chief. He was in the War Department, for instance, sending off messages and commands to his generals in the field almost more than he was anywhere else in his four-year tenure. He was the only commander in chief whose entire presidency up to that point was bookended by war. He guided the nation through the most perilous and bloody era it has ever known. This book tackles the challenges Lincoln faced in dealing with his often-slow-moving generals (i.e. McClellan, Hooker and Rosecrans), riots in New York, black troops in the military and the long effort to defeat Lee and capture Richmond, Atlanta, Vicksburg and other Confederate strongholds.
The book depicts a president intricately involved with the movements of his troops on the battlefield. Lincoln was not a military scientist, so he studiously took up the task of self-learning strategy and often dictated to his generals how he wanted Lee's and other armies to be pursued and quelled. Unfortunately for Lincoln, McClellan and numerous generals in succession often languished in the field, constantly asking for more troops and supplies before they could proceed, all the while, Lincoln goading them to get moving. One of the most disappointing failures of McClellan was his dilly-dallying in letting Lee escape in the Shenandoah Valley campaign.
401without commentshttp%3A%2F%2Fwww.jeremystyron.com%2F2008%2F12%2Frough-week-so-far-in-illinois%2FRough+week+so+far+in+Illinois2008-12-10+08%3A16%3A36Jeremyhttp%3A%2F%2Fwww.jeremystyron.com%2F%3Fp%3D401
First, we have this guy: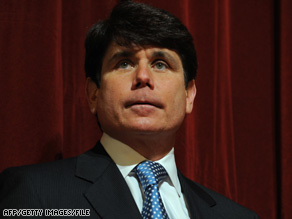 who, unfortunate hair-do aside, Illinois Gov. Rod Blagojevich was charged with federal corruption charges Tuesday and was released on a $4,500 bond. The charges include:
"leveraging his sole authority to appoint a United States Senator; threatening to withhold substantial state assistance to the Tribune Company in connection with the sale of Wrigley Field to induce the firing of Chicago Tribune editorial board members sharply critical of Blagojevich; and to obtain campaign contributions in exchange for official actions – both historically and now in a push before a new state ethics law takes effect January 1, 2009." — United States Attorney,
Northern District of Illinois
"The breadth of corruption laid out in these charges is staggering," Mr. Fitzgerald (Patrick J. Fitzgerald, United States Attorney for the Northern District 2 of Illinois) said. "They allege that Blagojevich put a 'for sale' sign on the naming of a United States Senator; involved
himself personally in pay-to-play schemes with the urgency of a salesman meeting his annual sales target; and corruptly used his office in an effort to trample editorial voices of criticism. The citizens of Illinois deserve public officials who act solely in the public's interest, without putting a price tag on government appointments, contracts and decisions," he added.
I mean, wow. Fitzgerald also called Tuesday a "sad day for government."
"Gov. Blagojevich has taken us to a new low," he said. "This conduct would make [Abraham] Lincoln roll over in his grave." — The Associated Press
Second, The Tribune Co., which owns the Chicago Tribune, the Los Angeles Times and other papers and media outlets, filed Chapter 11 on Monday, in what was yet another newspaper company to fall under the weight of a modernity that finds it increasingly irrelevant. Economy aside, newspapers — and I'm sure folks at the Chicago and Los Angeles papers have tried — must make the printed word so irresistible that folks are drawn back into the print fold or they must fully throw all their resources into their online products. For bookish types like me and scores of other, the disintegration of newspapers in print, books in print and so on would be a disastrous result of our fascination with the Internet, but from a purely economic standpoint, this may be where we are headed.
Regardless, it has no doubt been a bizarre week in Illinois. Hey! At least the Bears downed the Jaguars.