Archive for the 'journalism' tag
Several members of the 7th, including Abolt, said this story is not only important in American history, but also a story that must be passed on.
A comma is used to separate two independent clauses (clauses containing a subject and verb). The last part of the sentence would only be a complete sentence if it read: "history, but it also is a story that must be passed on."
Meadows expressed his thanks to the hundreds of people involved in the project, and said a burden had been lifted off his shoulders as a result of the home, which has three bedrooms, three bathrooms and a wrap-around deck.
For this to be a complete (in italics), the clause should have read "project, and he said a burden had been lifted …"
The CEO duties will be assumed by John R. Ingram, chairman of the division of Nashville-based conglomerate Ingram Industries Inc. that provides books, music and media content to more than 35,000 retailers, libraries, schools and distribution partners.
This is an example, along with the comma splice issue, that Yagoda mentioned specifically. Here, a comma is required after "Inc." because a comma was used before "chairman." An argument could be made that the word "that" continues the phrase through until the end of the sentence, but introducing Ingram as the chairman of Ingram Industries Inc. still requires a comma in the middle of the sentence to set off the attribution. Or, to avoid the problem altogether, the paragraph could read:
The CEO duties will be assumed by John R. Ingram, chairman of the division of Nashville-based conglomerate Ingram Industries Inc. The company provides books, music and media content to more than 35,000 retailers, libraries, schools and distribution partners.
Writers (and readers, I guess) apparently don't have the attention span to follow the sentence throughout its entire construction, so they sometimes forget where previously placed commas occurred. This is easy to track in your head as you reread or edit a story, but problems such as this crop up time and time again. And for people who care about the language, it's a distraction. As a colleague has often said, "Journalists are the keepers of the language." That's not to suggest that I won't have typos myself, but the will for perfection is there. This is apparently not the case with many who haphazardly throw in or leave out commas seemingly at random.
By the way, I'm a big fan of banning commas before the word "because" in almost every case, except in cases where a comma could avoid confusion or misreading. Why is that? Nearly all sentences with "because" in the middle are essential clauses, thus taking no comma. Sentence that begin with "because" do take commas.
Call me a punctuation Nazi all you like.
I loved this piece from Ben Yagoda about common comma errors. I don't know what they are doing in journalism school, but they sure aren't teaching punctuation. Apparently, they aren't teaching it in high school or college in general. I find comma errors in various online and print newspaper articles all the time. The epidemic is so widespread that I bet I can go read any random article from The Tennessean (Nashville's finest) and quickly identify an error.
I will now go read a random story and report back shortly.
I'm sorry to subject you to this, but this was a stunning quote from someone whose only claim to fame is that he hosts a show on FOX News in the wee hours of the morning when about three people are watching. Why are only three people watching? Because the various retirees, the businessmen, the stock brokers are in their jammies tucked away and dreaming with sugar plumb fairies dancing and thinking about how they might screw the system the next morning.
If you didn't know, "Red Eye w/ Greg Gutfeld" – the host is seen in this video – airs at 3 a.m. ET. 3-freaking-a.m. If you thought FOX News was purporting fringe right theories at noon weekdays, you should stay up late (or go to bed really early) and check out the good stuff!
Here is Gutfeld's takeaway line:
I will actually buy pills to keep a leftist from reproducing.
Really? This is even more reprehensible because the context was on birth control. So he admits that he's sleazier than the people he is criticizing. Well played … I guess.
Take a look:
I don't buy recent pronouncements from certain conservatives who say that NPR has a leftist bent. Most recently, the right-wing talking heads pointed to comments made by the network's fund-raising executive Ronald Schiller, who said in what he believed to be a private lunch, that the Tea Party had "hijacked" the GOP and that Tea Party proponents were "seriously, racist, racist people."
He's definitely right on the first count, and partially right on the second. But, of course, those were his personal feelings rather than his feelings as the top fund-raiser at NPR. Had he been at work, I think it's ludicrous to suggest that he would have made such statements.
Regardless, this is another blight on the station for the few of us who still care about the continued existence of journalism that is both critical of our leaders and fair. Of course, it's natural for some to feel that, perhaps, NPR leans left since it spends so much time on stories about culture, life and art. Wade through the wasteland that is conservative talk radio for one day, and while you will hear Paul McCartney's "Freedom" played almost continuously, what you won't find are stories about foreign films or folk music or drama. What you will hear, after "Freedom" fades to silence, is a relentless barrage of personal attacks against the president and other Democrats in power. The attacks coming from folks like Mark Levin, Michael Savage, Sean Hannity, Rush Limbaugh and others.
Here's a compilation of comments put together by Media Matters from conservative thinkers and media critics about NPR, and here is an analysis, albeit, slightly dated (2004), from fair.org.
A snippet:
That NPR harbors a liberal bias is an article of faith among many conservatives. Spanning from the early '70s, when President Richard Nixon demanded that "all funds for public broadcasting be cut" (9/23/71), through House Speaker Newt Gingrich's similar threats in the mid-'90s, the notion that NPR leans left still endures.

News of the April launch of Air America, a new liberal talk radio network, revived the old complaint, with several conservative pundits declaring that such a thing already existed. "I have three letters for you, NPR . . . . I mean, there is liberal radio," remarked conservative pundit Andrew Sullivan on NBC's Chris Matthews Show(4/4/04). A few days earlier (4/1/04), conservative columnist Cal Thomas told Nightline, "The liberals have many outlets," naming NPR prominently among them.

Nor is this belief confined to the right: CNN anchor Wolf Blitzer (3/31/04) seemed to repeat it as a given while questioning a liberal guest: "What about this notion that the conservatives make a fair point that there already is a liberal radio network out there, namely National Public Radio?"

Despite the commonness of such claims, little evidence has ever been presented for a left bias at NPR, and FAIR's latest study gives it no support. Looking at partisan sources—including government officials, party officials, campaign workers and consultants—Republicans outnumbered Democrats by more than 3 to 2 (61 percent to 38 percent).
A friend of mine from another paper once implied that it was intellectually dishonest to deny that NPR did not bend to the left. But I retort that NPR's alleged bias is far from self-evident, so much so that I can't find it. And I listen as often as I can. The station may appear artsy and stuffy or, dare I say, elitist at times. I will admit that. But politically biased? I simply can't find the proof. If anyone can find concrete examples, I will gladly post them on this site.
You know, the good folks over at News Corp. and FOX News really do a terrible job at concealing their unbelievably obvious bias toward the (once) Grand Old Party, almost as terrible a job as they do presenting the news in a fair and balanced format.
According to this report from The New York Times and many others, New Corp. has passed along a contribution in the amount of $1 million to the Republican Governors Association, which is one of three amounts over a million given to the Republican group in the last quarter. The largest donation to its Democratic counterpart, as it happens, was $500,000 from the American Federation of State, County and Municipal Employees.
According to News Corp. spokesman Jack Horner,
News Corp. has always believed in the power of free markets, and organizations like the R.G.A., which have a pro-business agenda, support our priorities at this most critical time for our economy.
Horner also said the gift would bear no impact on the newsgathering side of the company (They gather news?). Horner, seemingly anticipating the waves of criticism said, "There is a strict wall between business and editorial."
Sure there is. I suppose that's why there is no mention on FOX News' website about the contribution. Only one of three largest contributions to the group this quarter and not a sentence on the donation? Enlightening.
According to The Times report,
In an e-mail to reporters, the Democratic National Committee said the donation showed that Fox News' well-known mantra, "Fair and Balanced," had been "rendered utterly meaningless." Hari Sevugan, a D.N.C. spokesman, added that Fox News' political coverage "should have a disclaimer for what it truly is — partisan propaganda."
And when New York Times attempted to find a story on FOX's site?
While many news organizations reported Tuesday on the $1 million gift, a late-afternoon search of Fox News' Web site produced no mention of it.
A search at midnight on Wednesday by me produced no mention of it either.((1))
I've tried some zany design strategies in my day — superimposing a giant, six-column photo over the main newspaper banner comes mind — but this, from The Huntsville (Ala.) Times takes the cake. While the content of the following graphic is troubling for students, the design itself, while my conservative newspaper mind finds it a bit appalling and unsightly, this may have indeed been a winner for the paper. After all, what screams "Buy me" more than a colossal red anything spanning the entire length of the broadsheet?
StumbledUpon this fascinating tool called Buzztracker that maps relationships between news stories and locations across the world. A map is generated each day using the top articles in global coverage and then in connect-the-dots fashion, shows viewers the proceeding web of interrelationships. Thus, for instance, stories about Gaza appearing in newspapers from across the world also saw associations with Washington, D.C., London, New York and seven other places. Connectedness with Washington, D.C., was at 29 percent as it relates to Gaza, while connectedness with Zahedan was only at 5 percent as Zahedan relates to Gaza. Confusing at first but when you see the map, it makes more sense.
Here is the map for June 20. You can click on each red dot to see related stories and stats.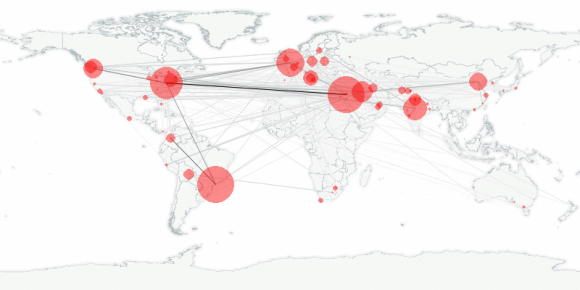 Since FOX News embarrasses itself, and journalism, just fine all by itself, I don't really even need to mention this, but I do so because I recognize that many still believe the station is a legitimate source for fair and balanced, and dare I say, accurate news.
That wasn't the case Monday, however, when FOX Nation presented as a "serious" news story a tale about a global warming activist who had frozen to the death this past weekend in Antarctica, meanwhile apparently not catching the irony. But here's the hang of it: the original story came from faux and satire news site, EcoEnquirer.com. And straight from FOX's Web site, here is the now-dead link.
Obviously continuing the 24-hour smear campaign against anything that may be called progressive ("Progress?" We wouldn't want that.), FOX ran the story because it makes a roundabout, assumptive case that, in fact, global warming is a myth, as if to say:
See, it's right there, clear as day. We still have people freezing to death in Antarctica!
Forgetting the fact that even after sea levels rise and most of the arctic sheet is toast, temperatures on this planet will still, and quite often, indeed, get cold enough for people to freeze to death. We are, after all, talking about an exceeding slow process, like evolution or other natural processes. But unlike evolution (Maybe we should welcome its intensification …), climate change is escalating with most of the warming since 1880 coming in recent decades. It's a brute fact by now, and we might as well come to terms with it. Attempts to subvert it are, and here's the nasty word again, retarding our progress as human beings.
But never a station to trade unscientific, fear-mongering nonsense for the scientific record or pesky truths, FOX actively looks for ways to conservatively pad its news hole, and the evidence has been mounting for years. By the way, I don't need to link to probable liberal sites to prove my point. If I had the inclination, I could flood this site with egregious nonsense I hear from this outfit. But it's too easy, and since so many others are sawing away at it, I don't see the need to add my voice to the fray, or at least not on a daily basis.
Thanks to Media Matters for this screen shot:
Given the increased prominence and influence of partisan outfits like MSNBC and FOX News, increased job cutbacks and failed newspapers around the nation, increased information on the Internet, and given a decreased presence of good journalism, many have noted the obvious, and inevitable decline of journalism in recent years.
Michael Gerson, with The Washington Post, is the latest, who in his Nov. 27 column, "Journalism's Slow, Sad Death," outlines this decline, describing the old newspaper fronts displayed at the Newseum in Washington, D.C., as looking more like a mausoleum than an archive of living history. And he's right. Journalism, or more accurately, newspapering, is almost a forgotten craft at this point in our history. But while he calls it a "slow, sad death," I call it a return to form.
In the dictionary, one can find two definitions for "journalism," one that includes the stipulation that the news gathering and presentation of information be given without interpretation or analysis, and one that simply says it's about news gathering. Thus, magazines, tabloid publications and standard broadsheet newspapers "do" journalism, but it's the broadsheet sort that Gerson is referencing, though he never really makes the distinction.
Of course, those who are actually in the newspaper business know what he means when he says "journalism." We mean the kind of news gathering that attempts to leave commentary or interpretation out of straight news stories, opinion being relegated to the editorial page. But without that distinction, most people in the body politic can't even distinguish, or don't know how to, between the kind of journalism done by People Magazine and that of the L.A. Times or the St. Petersburg Times. Celebrities can't even distinguish. Often, like in this Tiger Woods fiasco, movie or sports stars will refer to "the media" as a blanket term for everything from the trash tabloid publications to The New York Times. As the L.A. Times reported about Woods:
In a Q&A on his website last month, a fan asked Woods why she rarely saw photos of the couple in the gossip magazines. Woods replied that they have "avoided a lot of media (italics mine) attention because we're kind of boring," and he described a home life that included watching rented videos and playing video games with friends.
Many people don't see the distinction, and that's one point in which journalism as we know it might be going the way of the dodo. Thanks to the tabloids, Glenn Beck and Keith Olbermann and others, true objective journalism is simply being drowned out and stamped down in preference to opinion and innuendo (Admittedly, there is no such thing as "objective" journalism as an ideal. Journalists are not robots, but humans. We interpret news and make decisions on a daily basis about what is important to include in news stories and what is not. That skill set largely distinguishes our product from claptrap put out daily by People, the National Inquirer and others.)
All that said, Gerson's "slow, sad death" is a return to form because his "journalistic tradition of nonpartisan objectivity" is a fairly new phenomenon beginning at some point in the early 20th century. Prior to that, especially in the yellow journalism era and in the mid-19th century right around the Civil War,  newspapers and other publications were merely talking heads for political parties. They took a public stance, one way or the other, for slavery or against, for the Barnburners or against, for the Copperheads or not. So, if print newspapers followed the trend of television news, they will more increasingly become partisan, like FOX News and MSNBC.
I, of course, would hate to see this happen and hope that newspapers still practicing good journalism can find ways to remain solvent. Were newspapers to make that eventual turn, it wouldn't necessarily be the death of journalism, for journalism, objective or not, can live on without getting "newsprint on your hands," as Gerson lauds newsmen at the end of his column. But it would be a return to its former self. Remember, journalism wasn't objective first in its history. It was partisan first. The turn to non-partisanship was a turn for the better, in my view, and here's hoping print journalism remains true to its 20th-century transformation.
I was going to write about something else tonight, namely Andrew Sullivan's piece on torture appearing in this month's The Atlantic magazine. I previously read most of it on The Atlantic's Web site, but I got the hard copy version recently and took the time to re-read it. But I will save that for the next post.
I wanted to address a column by Matthew Cooper on The Atlantic's Web site (I found the column in the process of looking for the online version of Sullivan's piece, consequently). Cooper basically makes the case that Obama is not following through with his commitment to reach out to his enemies by snubbing FOX News when he "made the rounds" one recent Sunday on a number of TV news outfits. Coopers says that he
wouldn't argue that Fox is "fair and balanced." It's a conservative news outlet, and to argue that it's not is ludicrous. That said, there's obviously a spectrum of bias ranging from the straight-style reporting of a Major Garrett at the White House to the rantings of Glenn Beck and Sean Hannity, and some anchors are more Foxy than others. I like it when Media Matters for America calls Fox on its bias, although it's a little bit like calling Mahmoud Ahmadinejad for being anti-Israeli. — theatlantic.com, Oct. 20, 2009
The spectrum of bias (or, more accurately, a bias inside a full-scale bias) to which Cooper refers is true enough. At once, viewers find the traditional "news anchor" pretending to be "fair and balanced," while, the clues to the contrary are all around (Here, I reference the documentary "Outfoxed"). At the other end, we find Beck and the maniacal, fear-mongering, nonsensical crew. True also, mediamatters.org isn't much better; it just exists on the other-other spectrum. Maybe that should read: the other hemisphere.
Cooper goes on to say that for the Obama administration to ignore FOX News "seems small minded." He then claims many Democrats and independents watch FOX News. I'm not sure about this statement. If Democrats watch it, it's to find fodder for their blogs or other political discourse; if independents watch it, it's probably because they're inwardly Republicans or Libertarians. Or, more simply, those folks watch it to get a laugh or for the sheer entertainment value.
Nonetheless, I disagree that Obama should give it the time of day, however big its audience, which is another of Cooper's arguments: that FOX News would offer a grand stage for Obama to, perhaps, reach some people he wouldn't be able to otherwise. He claimed the "Obama charm" would work at FOX and said the president was "better off" for appearing on "The O'Reilly Factor" last year.
Cooper then comes to this question:
As for reporters, are we enabling a bad animal by appearing on Fox?
He apparently answers "No." I answer, "Yes." His response to the question:
I'd appear on Fox and have many times. I'd do it again. It's a big audience, and while there's a range of bias, so what?
So what?!? There's not just a range of bias (a range within the full-scale bias, as I said before). The station makes a mockery of both words, "fair" and "balanced." To boycott such a mockery to journalism would be an understandable thing and would, at least, slow the downward progression of the fine institution. The continued agreement of "real" journalists and leaders to appear on the network fuels its fire. If journalists, government officials and advertisers who disagreed with the blatantly weighted approach of FOX News made a concerted effort to refuse to support it, the network would surely feel the effects, in the quality of its on-air product and in its revenue.
To answers Cooper's final question: the "slippery slope" of boycotting the channel ends with the channel itself. We have no need to boycott The Simpsons or the NFL. Does anyone really think Rupert Murdoch cares one wit about what FOX News or any of his other interests are doing? There's no need to feel the same way about FOX the major network or FOX Sports or any of the others. For Murdoch, as long as they are making money, it's all gravy. FOX News, consequently, found a niche in the far right-wing demographic, and its running with the shtick to the detriment of journalism. The other FOX networks aren't involved in this derailment. I can't speak for Murdoch's newspaper interests because I haven't read them at length.
Another point: the idea that the Obama administration would somehow make inroads with the FOX News viewership is silly. Cooper says:
Wouldn't the White House be better off flooding Fox with its opinion rather than engaging in a fight with news outlet?
No. Obama isn't going to gain anything by going into that crossfire. Folks don't watch FOX News to have their cages rattled or their opinions questioned. They watch it to have their views validated. The typical FOX News viewer is an inert, immovable object politically, hanging on the edge of her recliner, clinging to Beck's or O'Reilly's every utterance. They question nothing and let others think for them.
Finally, Cooper states,
If the White House can reach out to the Iranians and North Koreans, for gosh sakes, they can talk to Shepard Smith.
No they can't because Shepard Smith and the gang, in their FOX News cocoon are doing their best, sometimes without even knowing it, to destroy journalism, and we should not support or accept it.