Archive for the 'Rod Blagojevich' tag
1. Balloon boy — The next ridiculous "weird" news story that, in truth, deserved two paragraphs of coverage and nothing more, yet the media ballooned this thing into the ether (sorry it was irrestible), and we groan collectively.
2. Glenn Beck — We only need to watch Beck's on-air sniveling, scare-mongering for about two minutes to realize that there's little in the way of Painean common sense in that noggin.
3. Michael Jackson — Why dredge up yet another posthumous track from another dead pop star? The tradition is an old one, from John Lennon to Kurt Cobain to Tupac. This reminds me of Dave Chappelle's hilarious skit about Tupac's song from 1994.
4. Limbaugh, Al Sharpton — Limbaugh (thankfully) won't be an NFL owner (at least not right now). Rush writes a column for the The Wall Street Journal. Sharpton threatens to file a lawsuit. Again, groans. Both are polarizing figures and are as predictable in such polarization as the sun rising in the east and setting in the west.
5. Dave Letterman's personal life — Although it was commendable in some rights that he told his story of bribery and sexual actions on the air, we really don't care. Just give us jokes, Dave. And if you couldn't tell, the audience wasn't even clear whether you were jesting or were actually serious.
6. Anna Nicole Smith — Drinking from a baby bottle? That-a-way to make your life come full circle! Get yourself so screwed up that you are reduced to sipping a sedative straight infant-style.
7. Rod Blagojevich — "Celebrity Apprentice?" 'Nuff said.
8. Celebrity Apprentice, Dancing with the Stars, etc — Again, groans.
9. Larry King — Next four guests on the show: Balloon boy (See No. 1), Suzanne Somers, George Lopez and Maria Shriver. Hard-hitting, important interviews there. I'm not sure at what point King became irrelevant, but the point has long-since passed.
10. Blogs as news aggregates — I don't make this final point to toot my own horn. In fact, I wish I could write more, but the simple nature of my approach to blogging limits how much time I can devote to it (as I also write news stories, sports stories and usually a column for a newspaper each week). Rarely, very rarely, I might post a single photo and a single sentence and make that "my" statement for the day, but this guy, Andrew Sullivan, is an aggregater among aggregaters. In one day (Oct. 17), I counted more than 20 posts. On another day, I counted about 40 … in a single day! True, he's a good writer and reporter. His "Dear President Bush" for The Atlantic is exceptional, and I highly suggest folks take a look at it, but we don't see much of that writing in his blog. Of the 20-something posts I counted today, most of the quotes from other sources were longer than the actual original content of the post itself. One "post" was just a picture of a painting with a caption from another source, saying how the painting, once valued at millions of dollars, was bought for $19,000.
I'm highly hostile of blogs of this kind because they simply don't say anything. Sure, Sullivan has surely said plenty in his other endeavors, but why have a blog if you aren't going to say anything? Anyone with a Web browser can find a bunch of quotes and links and put them together. I refuse to roam the Webosphere and collect a collage of news items every single day. Anyone can regurgitate information previously posted elsewhere. Indeed, it's hard for me to imagine Sullivan having time for other endeavors, when on this day, he "blogged" from 8 a.m. to nearly 9 p.m., cobbling together these 20-something posts of quotes and pictures.
This is the predominant reason I stayed away from blogging as long as I did. I saw it as a short cut, something akin to a slightly wordier Twitter, in which folks who aren't really writers (Sullivan really is a writer; I just use his ill-conceived blog as an example), turn to this medium to espouse their opinions in a pithy sentence or paragraph, but who don't really have the wherewithal to flesh out full arguments. Thus, I decided if I were to pursue a blog of sorts, it would actually contain well-thought-out opinions. My posts, then, are more like essays; that's why they come less frequently than others but with more content. They are an attempt to inform and make people think about concepts and ideas other than, perhaps, what they normally would.
The above points, however, have the opposite effect, and this is the reason why I made this list.
Note: All but the last point on this list were referenced from CNN, the most trusted name in news.
"The causes of the impeachment are because I've done things to fight for families," said Blagojevich, who was joined by some beneficiaries of his health programs during a news conference in Chicago.

Blagojevich dismissed the impeachment as inevitable from a House that has resisted his efforts to help real people instead of "special interests and lobbyists."

"The House's action today wasn't a surprise," said Blagojevich. "From the moment of my re-election, I've been engaged in a struggle with the House."

He ended the news conference by quoting a poem from "Ulysses" by Lord Alfred Tennyson, ending with: "To strive, to seek, to find, and not to yield." — The Associated Press
Honestly, this guy might (I'm just saying might) have some mental problem (or some megalomania problem). The causes of impeachment are that he attempted to sell Obama's vacant Senate seat for profit and have nothing to do with any fight for families, whatever that means. Through this whole process, this dude has appeared unscathed and emotionally detached from the stiff crimes associated with him.
In short, he's appeared cocky. Yet, to deal with it all, oddly, he quotes poetry.
This time around, it's Tennyson. "To strive, to seek, to find, and not to yield." Nice quote, but the problem is that he will yield because he has no choice. He's done. Ousted. Finished.
Columnist Kathleen Parker said it best:
Summing up, let me just say that I reject, repudiate, renounce, denounce, dismiss and utterly regret 2008.
Better late than never, I suppose. Having taken a few days break away from the blogosphere over the holidays, I have continued this weekend, hoping my muse will return happy and foretelling more blessings in 2009 than we got in 2008.
With, perhaps, the exception of Barack Obama's election, ending the eight-year long spiral down toward hitting rock bottom with the international community on our imperialistic foreign policy, it has by all accounts been the most dismal year news-wise in recent memory. Time's top 10, with the exception of the top two, wasn't even close in my book. Instead, here's what I consider to be the top stories of the last year, in order:
Economic turmoil — From Lehman Brothers, AIG, Morgan Stanley, to the auto industry's near collapse to the stock market's latest trend downward, this story was so huge it could have been broken into three separate stories within the list. From the standpoint of the banks, it's frustrating that they received all that cash and refused to tell the public how the money was being used. I write about that here. What's more, we have no guarantee the auto industry will handle the situation any better or will institute the barebones, leadership changes needed to right the industry and make it more sustainable for the long haul. As for stocks, the numbers speak for themselves. A quick glance at the 1-year graph at the bottom of this page will show the Dow Jones has slipped from a 52-week high of 13,136.69 to a low of 7,449.38. When folks start mentioning the Great Depression in the same sentence as 2008, you know it's time to say, "Good Riddance."
Obama's election — The Sacramento Bee led its post-Election Day paper with the headline: "Change has come to America," on the heels of the election of the first black (more accurately, mixed) president in our history. But the president-elect scarce had time to revel in the victory before he had to get busy appointing members to his cabinet and preparing his administration to be able to hit the ground running come Jan. 20. And we barely had time to consider what his election means to the social conscious of the country before residents were again labored with the bad news of the auto industries failure, Gaza and other troubling news. Of course, the election could help improve our shredded PR around the world and help to further make this union a more perfect one. Obama's Speech on Race in Philadelphia, though in context, was a refutation of Jeremiah Wright's more bombastic comments against America, should and no doubt will be studied in school's as one of the greatest speeches delivered in this century or any other. And for a brief little while, the president-elect helped us think about a kind of hope that had all but been snuffed out since the Civil Rights movement. His ability to inspire and communicate good ideas, coupled with folks' general disdain for the current administration and its policies were enough to win the election. Now, it's time to see what he's truly made of in the face of a recession, two wars and the conflict in Gaza.
Disaster in Myanmar — About 150,000 dead and 95 percent of all buildings in the affected area were destroyed.
China earthquake — More than 85,000 dead in the massive earthquake hitting southwest China's Sichuan province.
Russian forces in Georgia — In a modern version of what could be a rebirth of Russia's more imperialistic and communist tendencies, after Georgia launched a smaller attack of South Ossetia, Russia then pushed into Georgian territory before an agreement was eventually reached.
An aging Castro releases power to his brother, Raul.
Oil prices go up an up and up after a hurricane strikes Gulf Coast, then through the late fall and early winter, they take a dip.
Mumbia shootings
Pirates hijack cargo ships off the coast of Africa
The Rod Blagojevich scandal (obviously still unresolved)
First, we have this guy: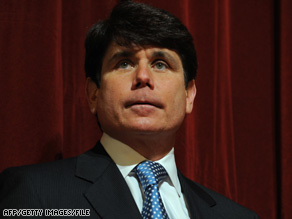 who, unfortunate hair-do aside, Illinois Gov. Rod Blagojevich was charged with federal corruption charges Tuesday and was released on a $4,500 bond. The charges include:
"leveraging his sole authority to appoint a United States Senator; threatening to withhold substantial state assistance to the Tribune Company in connection with the sale of Wrigley Field to induce the firing of Chicago Tribune editorial board members sharply critical of Blagojevich; and to obtain campaign contributions in exchange for official actions – both historically and now in a push before a new state ethics law takes effect January 1, 2009." — United States Attorney,
Northern District of Illinois
"The breadth of corruption laid out in these charges is staggering," Mr. Fitzgerald (Patrick J. Fitzgerald, United States Attorney for the Northern District 2 of Illinois) said. "They allege that Blagojevich put a 'for sale' sign on the naming of a United States Senator; involved
himself personally in pay-to-play schemes with the urgency of a salesman meeting his annual sales target; and corruptly used his office in an effort to trample editorial voices of criticism. The citizens of Illinois deserve public officials who act solely in the public's interest, without putting a price tag on government appointments, contracts and decisions," he added.
I mean, wow. Fitzgerald also called Tuesday a "sad day for government."
"Gov. Blagojevich has taken us to a new low," he said. "This conduct would make [Abraham] Lincoln roll over in his grave." — The Associated Press
Second, The Tribune Co., which owns the Chicago Tribune, the Los Angeles Times and other papers and media outlets, filed Chapter 11 on Monday, in what was yet another newspaper company to fall under the weight of a modernity that finds it increasingly irrelevant. Economy aside, newspapers — and I'm sure folks at the Chicago and Los Angeles papers have tried — must make the printed word so irresistible that folks are drawn back into the print fold or they must fully throw all their resources into their online products. For bookish types like me and scores of other, the disintegration of newspapers in print, books in print and so on would be a disastrous result of our fascination with the Internet, but from a purely economic standpoint, this may be where we are headed.
Regardless, it has no doubt been a bizarre week in Illinois. Hey! At least the Bears downed the Jaguars.