Archive for the 'senate' tag
Article first published as McConnell Fights, Boehner Cedes on Blogcritics.
***
I have often contended that, in studying politics, one must only follow the money to discover the motivations of such and such politician in proposing such and such bill.
Exhibit A: Senate Republican leader Mitch McConnell (Kentucky) this week proposed a bill, swiftly refuted by Democrats, that George W. Bush's tax cuts for the rich be continued indefinitely.
According to this New York Times story, McConnell recently had this to say on the floor of the Senate: "Democrats spent the last two years putting government in charge of health care, the financial sector, car companies, insurance companies, student loans — you name it. Now they want the tax hike to pay for it all."
Put it like that and you might say Democrats have ushered in a new era of socialism, but alas, so go the usual sad and tired refrains.
But let's have a look at where McConnell's own interests lie and then draw some conclusions of our own.
OpenSecrets.org reports that McConnell's top contributors between 2005-2010 have been Kindred Healthcare ($108,200), UBS AG (A global financial services company at $98,450), Elliott Management (An investment company, $88,500), Peabody Energy ($73,600) and Citigroup ($66,100).
Since McConnell's largest contributor is part of the health care industry, it makes sense that his first nod in the above quote is, indeed, to the government taking a larger role in health care. He's wrong, of course, since the government isn't being put "in charge of health care," but helping people pay for their health care by private providers with public money. This, as it happens, already occurs, and has for years, through programs like Medicaid and Social Security. Thus, conservative angst against the health care bill breaks against itself. We already use public money to provide free health care to certain members of our populace. Why not everyone? McConnell drives a hard case against finding a way to make sure every person in this nation is taken care of.
The one pleasant surprise on the issue of letting the tax cuts for the rich expire is the case of House Republican leader John Boehner of Ohio. I have been quite critical of him in the past. But I have to commend the man in this instance for at least saying he would vote for President Obama's plan to extend the cuts only for households earning less than $250,000 if he had no other choice, even if it was, to some degree, forced.
Winning a war by attrition is better than ceding the war altogether in some cases. So, even if Boehner isn't necessarily interested in helping working class folks, at least he seems to have given a nod to such an idea, although his associations with wealthy interests speaks for itself.
Like the recently passed health care bill, the energy bill currently being mulled in the U.S. Senate is watered down, as Thomas Friedman, with The New York Times admits, but, as he also admits, at least it's a start. But if only a few, Friedman numbers it at seven, senators can't get on board — and it's not clear they will — we won't even have a start on energy reform. I will echo Friedman in calling such a scenario "pathetic," and I would add, utterly pathetic, backward, anti-scientific and contemptible.
Friedman puts the urgency of now, something not many people seem to possess anymore, especially not congressmen, into perspective:
If we don't get a serious energy bill out of this Congress, and Republicans retake the House and Senate, we may not have another shot until the next presidential term or until we get a "perfect storm" — a climate or energy crisis that is awful enough to finally end our debate on these issues but not so awful as to end the world. But, hey, by 2012, China should pretty much own the clean-tech industry and we'll at least be able to get some good deals on electric cars.
Realizing that many, if not all Republicans, will skirt away from any bill that culls their precious attachment to the oil industry, Friedman offers this suggestion: forget climate change. Concede the myth. Concede that it doesn't exist. What then? Here's what Dems should tell Reps, according to Friedman:
Fine. Forget about global warming. That's between you and your beach house. How about this? Do you believe in population growth? Do you believe in the American dream? Because, according to the U.N., the world's population is going to grow from roughly 6.7 billion people today to about 9.2 billion by 2050. And in today's integrated world, more and more of those 9.2 billion will aspire to, and be able to, live like Americans — with American-size cars, homes and Big Macs. In that world, demand for fossil fuels is going to go through the roof — and all the bad things that go with it.

"If we take that threat seriously now and pass an energy bill that begins to end our oil addiction, we can shrink the piles of money we send to the worst regimes in the world, strengthen our dollar by keeping more at home, clean up our air, take away money from the people who finance the mosques and madrassas that keep many Muslim youths backward, angry and anti-American and stimulate a whole new industry — one China is already leapfrogging us on — clean-tech. Nothing would improve our economic and national security more, yet Republicans won't lift one finger to make it happen.
Personally, I'm not willing to go that far and concede the point on science. If I were a congressman in favor of energy reform because I saw the real dangers of doing nothing and were faced with no-nothing fellow senators who denied global warming, as if to deny sunlight or the roundness of Earth, I would take whatever measures necessary to ram the bill through in spite of them. But, of course, that's the damnable part of it. Half of the entire Senate, or more, are no-nothing regarding much of science, and that's just frightening, not to mention the throngs who voted them into office. To rethink the logic, I doubt I would have the patience to be a congressman.
In the wake of the historic vote Sunday to secure health care for 30 million more Americans, the Republican response, by and large, and has been vitriolic and retaliatory.
Only two days after the vote and seven minutes after President Obama signed the bill into law, 13 attorney generals across the country, 12 Republicans and 1 Democrat have sued the federal government claiming the act is unconstitutional. According to the lawsuit:
The Constitution nowhere authorizes the United States to mandate, either directly or under threat of penalty, that all citizens and legal residents have qualifying health care coverage.

Legal experts say it has little chance of succeeding because, under the Constitution, federal laws trump state laws.
In Washington, members of the Republican party are calling for repeal legislation to undo the bill:
Already, three of the GOP's most prominent conservative voices, Reps. Steve King (R-Iowa) and Michele Bachmann (R-Minn.), as well as Sen. Jim DeMint (R-S.C.), are introducing legislation to repeal the bill, even though the party is nowhere near to having the votes necessary to pass a repeal bill.

On top of that, some of the Republican party's likely 2012 contenders have weighed in on the matter. Former Alaska Gov. Sarah Palin yesterday called the health care vote a "clarion call and a spur to action" and endorsed the repeal of the "dangerous portions of Obamacare." Former Massachusetts Gov. Mitt Romney, also called for the bill to be repealed, in spite of the comparisons often made between the Democrats' health care plan and Romney's Massachusetts health care plan.
While in my current state of residence, Rep. Paul Broun, who is apparently still dreaming of 19th century Southern glory, bafflingly on March 19 equated health reform to the Civil War. As Media Matters notes,
Rep. Paul Broun (R-GA) is a fanatical opponent of health care reform, who has suggested that President Obama might "declare martial law" and rule as a dictator. In recent days, the right-wing congressman has made Speaker Nancy Pelosi (D-CA) the target of his fury, calling her arrogant, ignorant, and incompetent. Last night on the House floor, Broun continued his streak of combative statements by comparing health care reform to the American Civil War, which he called "The Great War of Yankee Aggression."
And from the horse's mouth:
If ObamaCare passes, that free insurance card that's in people's pockets is gonna be as worthless as a Confederate dollar after the War Between The States — the Great War of Yankee Aggression.
Not to be undone and ever telling us that we should all be praying and quivering in a dark corner about the government's transgressions, Republican House Leader John Boehner of Ohio's fightin' 8th, in response to a scathing crowd heckling lawmakers at the Capitol had this to say: The offensive comments were:
… reprehensible and should not have happened.
Nevertheless, frenzied crowd, your irrational outcries are justified:
But let's not let a few isolated incidents get in the way of the fact that millions of Americans are scared to death.
Indeed, Boehner, as the House Republican Leader, has been one of the most vocal lawmakers on the bill. Says Boehner in this animated speech,
We have failed to listen to America , and we have failed to reflect the will of our constituents, and when we fail to reflect that will, we fail ourselves, and we fail our country.
To groans from fellow House members, Boehner continued with this diatribe:
Look at this bill. Ask yourself: Do you really believe that if you like the health plan that you have, that you can keep it? No you can't. In this economy [jeers and gavel], you can't say that. In this economy, with this unemployment, with our desperate needs for jobs and economic growth, is this really the time to raise taxes, to create bureaucracies and burden every job creator in our land?
Here's the full speech:
If I may interpose, Boehner and others just say the keyword "taxes" and never elaborate. Boehner, for instance, did so in this pre-vote health care bill renunciation:
What they never get around to saying is that the taxes imposed by the bill will affect families who earn $250,000 or more ($200,000 for individuals) per year, which as nearly all readers of this site know, does not affect them. Yet, Republicans want to make the case, to the unlearned public, that the mean, bad old Democrats want to take everything for which they have worked so hard. Unless I have an exceeding rich friend of whom I'm not aware, I don't know that I've ever personally had a conversation with someone who makes that much per year. So, diametrically opposite to the claims made by Republicans in their desperate attempts to disparage health care reform at any (theoretical) cost, you probably don't even know someone who makes $200,000 per year, much less $250,000.
Finally, even some Republicans are not happy with how their fellow party members are reacting to the health care bill. Here is a blogger who appears frustrated over fellow Republicans' negative response to a seemingly positive reform like health care:
Republicans are shouting and spitting like a bunch of fucking hyenas as they clamor for face time in the media. They're filling our inboxes, vandalizing our social networking profiles and polluting the airwaves with venomous messages rebuking the Obama Administration over health care. HEALTH CARE! My fellow Republicans are tearing this nation apart over providing medical care for those less fortunate. Not bank bailouts, war, or wasteful pork spending— Health care. Really?

The behavior among elected Republicans and the dimwitted TV pundits who are whipping America into an absolute frenzy is the worst thing about this bill and has led me to question my long-standing affiliation with the Republican Party. For a moment, I thought it was me; that maybe I had changed and lost touch with Republicanism. So, in seeking to refresh my recollection of what this party stands for, I logged onto the GOP home page.

What I found was as pathetic as it was cartoonish. A complete embarrassment. The site opens to a fiery red screen with Nancy Pelosi, fists and teeth clenched in a fit of rage against a backdrop of flames, with the words "Fire Pelosi" in bold letters emblazoned on the screen. This buffoonery doesn't torch Nancy Pelosi—it's Theodore Roosevelt, Dwight D. Eisenhower and Abraham Lincoln who are torched by the flames of dissent and hatred that now embody this once-great party.

Going deeper in the site only serves to highlight the confusion within the GOP. It lists the accomplishments of the Republican Party since its inception and its own core values of today. It proudly claims responsibility for freeing the slaves, establishing Howard University and outlawing the Ku Klux Klan. It touts Republican leadership in writing the 19th Amendment, passing two civil rights acts and ending racial segregation in Little Rock. The list spans two centuries of achievements such as these and others that today seem more in alignment with the Democratic Party, like establishing Yellowstone National Park, building the federal highway system and authoring welfare reform.

This is the party I belong to.

But the current "platform"—if you can call it that—lists only six ideals. The power of the individual, voluntary giving, limited government, low taxes, less regulation and national strength. That's what it says, but what it practices is hate, because hate sells when the chips are down. (italics mine)
I saw a bumper sticker that said this a few days ago, so I figured I would try to find the source. I don't know if Rep. Alan Grayson (D-FL) is the original source, but he's at least one. Here's a video of Grayson making a speech Sept. 29 on the House floor:
The second part of the "plan," "die quickly," is probably a bit over the top, but the basic logic is that, if you do get sick, with or without insurance, you should hope to be summoned by the Grim Reaper as soon as possible so as to not send your entire family into financial ruin.
By the way, I just glanced over a couple of the You Tube comments below this video and one reads:
Wow Grayson really treats his audience like they are very intelligent and capable of understanding complex issues.
Grayson was a bit scathing, but his frustration comes through I think. Why should House members be treated like they are intelligent and capable of understanding complex issues? They haven't earned it. They haven't acted in a bipartisan manner (and an argument can be made that, until recently, neither has President Obama), but it's a well known fact that insurance companies carry a lot of weight on The Hill. The plain-as-day fact is that many lawmakers have a vested interest in keeping the status quo regarding health care and have neither the uninsured or insured in mind.
Stupid, stupid folks. I understand there are parts of the bill that members of the Senate, mostly Republican, did not agree with, but have these same people been paying attention? There is no time to "go back to the drawing board." There is no time to retool the bill and then spend more days discussing and voting, discussing and voting, ad nauseum. The auto companies may not even last until the new year.
Why can we not get important measures accomplished at the state and national levels? Partisanship, I would argue, plain and simple.
South Carolina Sen. Lindsey Graham, who played caddy for John McCain through much of the presidential election, said automakers
"… need to make significant, structural changes before they receive federal assistance and those changes should be made in the private sector, " he said. "No one wants to see these companies fail and workers displaced. I feel for the car dealers and their employees who are being hurt by years of bad decisions made by the leadership of the Big 3. But I also realize that unless major, fundamental changes are made in the way the Big 3 operate, they will likely find themselves right back in the same situation."
That's all well and good. And if it happens a second time, no one will be waiting in line to bail these folks out. But right now, not only the fate of the industry (in an incredibly shaky economy), one that exudes the very concept of "Americana," is in jeopardy, but thousands of jobs in that industry and other associated fields. Sen. Jim DeMint, also of South Carolina, seemed even more adamantly opposed.
DeMint came out early and harshly against the plan, joining four other conservative senators in calling for a business solution, not a "political solution."

"This is a business and financial problem," DeMint said, adding that existing bankruptcy laws are designed to allow companies to come out of these situations healthy.

He said consumers would much prefer to deal with auto firms that have survived a "pre-packaged bankruptcy" than and "temporary bailout."

DeMint's cohort Sen. Richard Shelby of Alabama told reporters he intended to slow the legislation down, adding, "No one knows what's in it." — The Associated Press
First, how can we deal with an auto industry that may or may not survive a 'pre-packaged bankruptcy?' Do we have some assurance that the industry could survive bankruptcy given the negative stigma associated with filing Chapter 11? We have nothing of the sort. Second, why on earth is Sen. Shelby claiming "no one knows what's in it (referring to the auto loan bill)?" The text is right there in plain view. I quote a portion of it in a previous post. I, in my limited capacities, was able to access it. Is Shelby not? I certainly hope he read it before voting on it. Is he too lazy or unconcerned to bother with its details? To claim that "No one knows what's in it" is at best, sarcasm, and at worst, a lie.
Fortunately,
Bush officials made clear that if Congress didn't act, the White House would have to step in to save Detroit from collapse with funds from the Troubled Asset Relief Program, according to the sources familiar with the conversations.
Heck, in this regard, Bush and his administration have their heads on straight in standing in opposition to his own party. What are folks in the Republican camp thinking? Are they just being ornery? Are they upset about the forthcoming Democratically controlled House and White House and are just playing naughty? What's the nature of their abject dissent? Perhaps that's a subject for a subsequent post.
First, we have this guy: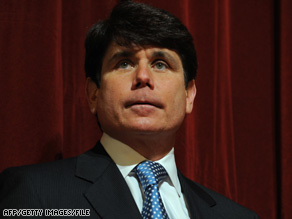 who, unfortunate hair-do aside, Illinois Gov. Rod Blagojevich was charged with federal corruption charges Tuesday and was released on a $4,500 bond. The charges include:
"leveraging his sole authority to appoint a United States Senator; threatening to withhold substantial state assistance to the Tribune Company in connection with the sale of Wrigley Field to induce the firing of Chicago Tribune editorial board members sharply critical of Blagojevich; and to obtain campaign contributions in exchange for official actions – both historically and now in a push before a new state ethics law takes effect January 1, 2009." — United States Attorney,
Northern District of Illinois
"The breadth of corruption laid out in these charges is staggering," Mr. Fitzgerald (Patrick J. Fitzgerald, United States Attorney for the Northern District 2 of Illinois) said. "They allege that Blagojevich put a 'for sale' sign on the naming of a United States Senator; involved
himself personally in pay-to-play schemes with the urgency of a salesman meeting his annual sales target; and corruptly used his office in an effort to trample editorial voices of criticism. The citizens of Illinois deserve public officials who act solely in the public's interest, without putting a price tag on government appointments, contracts and decisions," he added.
I mean, wow. Fitzgerald also called Tuesday a "sad day for government."
"Gov. Blagojevich has taken us to a new low," he said. "This conduct would make [Abraham] Lincoln roll over in his grave." — The Associated Press
Second, The Tribune Co., which owns the Chicago Tribune, the Los Angeles Times and other papers and media outlets, filed Chapter 11 on Monday, in what was yet another newspaper company to fall under the weight of a modernity that finds it increasingly irrelevant. Economy aside, newspapers — and I'm sure folks at the Chicago and Los Angeles papers have tried — must make the printed word so irresistible that folks are drawn back into the print fold or they must fully throw all their resources into their online products. For bookish types like me and scores of other, the disintegration of newspapers in print, books in print and so on would be a disastrous result of our fascination with the Internet, but from a purely economic standpoint, this may be where we are headed.
Regardless, it has no doubt been a bizarre week in Illinois. Hey! At least the Bears downed the Jaguars.