Archive for the 'washington' tag
This billboard, which is on rotation in my town in East Tennessee, pretty well embodies the fringe movement in this nation and their ludicrous and desperate attempts at scaring people into distrusting and even hating the Democratic Party or progressives. Following the logic of the sign, we are supposed believe that either President Obama or our leaders in Washington as a whole are secretly plotting to take over the nation by enacting stiffer gun control laws, as if we actually live in a dictatorship like Nazi Germany circa 1942. This is beyond absurd, of course, but I'm starting to think that the fringe right in this nation are about on par with the 9/11 conspiracy theorists and the supposed UFO abduction victims, and as such, should be treated with as much contempt and mockery for first, failing to seriously advance any viewpoints that may actually improve this nation and the world, and second, by actively working to keep us slavishly in the dark ages and so far behind parts of Europe, China and Japan that we may never be the greatest country again … whatever that means.
I took a long drive today — specifically eight hours round trip from Tennessee to South Carolina and back — and had some time to think about exactly why I can't, under any circumstances, morally or intellectually, understand or support the conservative program of the last, well, 32 years since I've been old enough to be cognizant of it.
I concluded that it is this: while progressives, Green Party members, some Democrats and others, have been champions of people — you know, human beings with pulses and feelings and a pitiable capacity for suffering under immense physical, emotional or financial stress — Republicans more or less have mostly been concerned with A) protecting the rights of inanimate religion in all its forms, squashing gay rights, squashing all abortion, sometimes even in cases of rape or incest, and protecting the right of prayer in the public square, and B) protecting the rights of inanimate state governments and inanimate corporations.
Maybe you are noticing a trend. Yes, the GOP have made some obligatory inroads in helping starving people in Africa and elsewhere in the world, but here in America since 1981, we have languished through eight years under Reagan, four under George Herbert Walker Bush and eight years under George W. Bush. What advancements have they brought to bear in health care in these 20 years in power? The answer? Not one thing. Medicare, you say? Instituted in 1965 under Lyndon Johnson, a liberal if ever there was one. Medicaid? Same year. Same president.
In fact, members of the GOP have done everything in their power to keep health care reform from happening in this nation, and that became evidently clear when not one single Congress man or woman had the balls to vote in favor with the other side of the aisle. Chief Justice John Roberts, in his recent ruling to uphold the health care bill, actually seems to be the only conservative with any semblance of a backbone in this political landscape. Conservatives, at the same time, talk about cutting spending, cutting taxing, reining in the budget, slashing regulations on corporations and kowtowing to the insurance industry, all the while wrapping themselves in the cloak of religion and claiming they care about people. Care about people? I have yet to find a "soul" whatsoever in rhetoric coming from the American right.
Honestly, I don't know how some of them live with themselves. Sure, Medicaid and Medicare protect the health of the disabled and old people (both passed under LBJ, as I mentioned), but what about other needy people who aren't fortunate enough to be disabled or old? We have no problem funding public education for every single person in this country. We have no problem publicly funding police departments. Why is health care different? Shouldn't the public funding of health care be even more important than education, since without the ability to get or pay for basic care when you get sick, a person's education or career means nothing. Can you imagine the outcry if police departments only protected people who were disabled or more than 65 years old? What if a pregnant mother of three was abducted in a mall bathroom, and the police turned the other way because taxes aren't set aside to protect otherwise "healthy" people. There is a clear disconnect.
So, in looking at conservatism in the last 30 years, I've heard a lot of rhetoric about protecting the interests of inanimate institutions that, by definition, only suffer financially and not physically, and a lot of talk about being fiscally responsible with money. It's always money, money, money. But really, isn't it the health of our citizens that we should be protecting above everything else?
No one, I dare say, will argue that cutting taxes and cutting government spending isn't an admirable course of action if possible and if the body politic is already well educated, healthy and financially stable. But when either of these conditions is not met (and at least two are not met), the government, with its high call, via the Constitution, "to promote the general welfare" of the populace, should do what is necessary to meet them. I hear nothing but fiscal talk from the conservative side. Nothing about the importance of health care or ethics. Nothing about actually improving the lives of the citizenry in concrete ways. Nothing about protecting individual interests against the interests of the insurance and pharmaceutical companies. Indeed and stunningly, given all the religious talk that trots right alongside the rhetoric, it is the opposite. And until that changes in drastic ways, progressivism, with its focus on the well being of conscious creatures, is the only tenable path forward.
I wish I were surprised by this, but according to a Pew report from earlier this fall, the number of religious lobbying groups in Washington, D.C., has increased by five times since 1970, going from 40 organizations to more than 200. Collectively, these organizations pump up to $390 million a year into efforts to influence issues of national import.
Here is the breakdown by denomination and/or sect:
The study finds that about one-in-five religious advocacy organizations in Washington have a Roman Catholic perspective (19%) and a similar proportion are evangelical Protestant in outlook (18%), while 12% are Jewish and 8% are mainline Protestant. But many smaller U.S. religious groups, including Baha'is, Buddhists, Hindus, Muslims and Sikhs, also have established advocacy organizations in the Washington area. In fact, the number of Muslim groups (17) is about the same as the number of mainline Protestant groups (16). And the largest category today is interreligious: One-quarter of the groups studied (54) either represent multiple faiths or advocate on religious issues without representing a specific religion.
Domestic issues that these groups champion range from the separation of church and state concerns, to abortion, to the definition of marriage and religious liberties.
I was most surprised that, while religious organizations in previous decades have mainly focused on domestic policies, their interest in international issues has been on the rise. On that front, they typically focus on debt relief, human rights and the promotion of democracy and peace.
Of course, religious lobbying, like all lobbying, should be viewed with a heavy dose of contempt since we elect our senators and representatives to make policy that is in the best interests of the nation, not to kowtow to the whims of this group or that.
Religious lobbyists, in particular, do not have the best interests of the nation at heart, only the best interests of their particular worldview, which at the most extreme end, would no doubt include seating an evangelical at the head of every major seat of power in Washington and passing policy after policy that would stunt human's basic right to live as they see fit, love and marry whomever they wish and choose how best to care for and manage the health of their own bodies.
For further reading, here is another article from Pew on the history of religious lobbying and advocacy in Washington.
It is a sad commentary on where we stand as a nation 130 years after slavery, thirty years beyond Jim Crow, and twenty-five years since Nixon played his piano at the Gridiron Club that our current chief executive, arguably the least prejudiced of the forty-one men who preceded him, sees fit to include racial calculus in politics and policy. — Kenneth O'Reilly, "Nixon's Piano,"  1995, on former President Bill Clinton((1))
***
The story of race and the American Presidency is one in which, almost without exception, the 42 white men who led the United States prior to Obama's election courted the white vote at the expense of minority interests and civil rights, so much so that not only did the early Southern economy stand on the shoulders of black folks, the highest office in the land did as well.
Kenneth O'Reilly in "Nixon's Piano: Presidents and Racial Politics from Washington to Clinton," doesn't quite make it to that far-reaching conclusion, but this is the impression I got after giving some thought to this studiously researched and chilling look at how our American presidents dealt with issues of race while in office.
From the outset, readers find out how the early presidents, many of them slaveholders, recognized that the peculiar institution would eventually have to fall or that blacks would have to be colonized elsewhere (a ludicrous notion) — vanquish the thought that the two races could ever co-exist as free people — but they largely had neither the courage or the will to set the process of emancipation or civil rights in motion.
John Adams, the second president and one of the more pragmatic and close-reasoning Founders (He was the British's defense lawyer following the Boston Massacre when no one else would take up the cause because he adamantly believed every [white] man deserved a fair trial) was probably ahead of his time when he said,
I shudder when I think of the calamities which slavery is likely to produce in this country. You would think me mad if I were to describe my anticipations. If the gangrene is not stopped I can see nothing but insurrection of the blacks against the whites.((2))
As it turns out, he had it precisely the other way around, with a white man, John Brown, pulling the grenade pin that would eventually explode into war and white slaveholders seceding to protect their precious institution. Regardless, Adams, unlike many of his co-Founders, held no slaves, but nonetheless, the thought of freeing black people chaffed him with the thought of widespread chaos. He was for the preservation of his beloved nation if he was for anything. As O'Reilly quotes Adams about a state proposal in Massachusetts:
The Bill for freeing the Negroes, I hope will sleep for a Time. We have Causes enough of Jealousy Discord Division, and this Bill will certainly add to the Number.
Abigail Adams, the rock-steady engine that fueled John's heart, was probably even more progressive than her husband, calling slavery a "most iniquitous Scheme" which caused the "daily robbing and plundering from those who have as good a right to freedom as we have." Again, another Adams ahead of her time.
John's personal views aside, the president was silent on the issue in public, and like his predecessors and many successors, was hamstrung on how to proceed.
The only complaint I have of O'Reilly's book at this point is that it seems to spend too little time on the early presidents, devoting only one chapter to a cursory look at the record of the first 24 presidents, then vaunting readers all the way to the start of the 20th century by page 63. This is understandable in one sense given the fact that, aside from Lincoln and John Adams, the early presidents were mostly indistinguishable in regard to their views or actions on race while in office. Still, although more discussion on the early presidents would have taken this 400-page book closer to 1,000 pages, I think it would have given more credence to the book's subtitle.
In the 20th century, readers see the rise of the progressive movement, first as represented by the Republican Party, still under the banner of Lincoln, and later, by the Democratic Party and Lyndon Johnson in his attempts to loose the nation from its Jim Crow and Black Code shackles. And even then, Johnson's signing of the Civil Rights Act of 1964 and 1968 and the Voting Rights Act of 1965 seemed to be motivated as much by political pressures as any moral yearnings to finally award blacks their hard-won political and social freedom. For O'Reilly, Lincoln and Johnson's civil rights records were tainted by other considerations:
Of the forty-two presidents of the United States only Lincoln and Lyndon Johnson stand out for what they ultimately did on the matter of civil rights for all. But even they brought baggage to their great accomplishments: Lincoln with his white supremacist caveats, closet dreams of sending the slaves he freed back to Africa, and faint Reconstruction notion of building a decent Republican party home for the South's poor white trash at the expense of any freedman he could not ship to Liberia; and Johnson with his surveillance state (that gave the FBI et al. free run at an entire race by ranking blacks alongside Communists and criminals) and Vietnam draft boards (that always came first for the people at the bottom he otherwise seemed so intent on helping).
On the latter, Johnson once said that young blacks were best served in the armed services rather than by the social programs and civil rights acts he had created.
O'Reilly:
Johnson once told Roy Wilkins (a civil rights activist), while still vice-president, that all mothers want the same thing for their children. But he never quite understood that no mother, black or white, wanted her son to fight and die in a Southeast Asia jungle (Vietnam) for a reason that the president himself could not articulate. "I've seen these kids all my life," he (Johnson) told his cabinet two months before (the) Tet (Offensive). "I've been with these poor children everywhere. I know that you can do better by them than the NYA (National Youth Administration) or the Job Corps. Defense Department can do the job best. Go to it."
So the two best civil rights presidents we ever had were only marginally courageous in their deeds. In total, I thought O'Reilly presented a devastating critique of the more conservative presidents on the issue of race (Most of their records on the matter are utterly disgraceful, after all), but of the more progressive presidents, O'Reilly showed how they either tempered how far they were willing to go on the question of race or scaled back their civil rights efforts once elected.
Bill Clinton would be an example of the latter. As O'Reilly noted, Clinton the teenager once told his mother that segregation was a sin and that he admired Martin Luther King. He even memorized King's "I Have A Dream" speech, helped himself to a seat at the "black" table in 1971 at Yale Law School and performed volunteer work for a New Haven, Conn., lawyer working on civil rights cases. As president, however, he played a different tune, but not the one that vaulted him to presidential coolness as the sunglass-wearing sax player on "The Arsenio Hall Show."
Here's O'Reilly:
Other than appearances in black churches, where he was at home, like Jimmy Carter … Clinton emphasized race as a nonissue from the primaries forward. He kept black advisers in the background, made no promises, accepted the nomination at a Democratic National Convention that had two hundred fewer black delegated than in 1988, and timed his rare appearances at black events so that they would be too late for the evening news or overshadowed by other events.
If only O'Reilly would or could have written an updated version of his book to include the administration that led for eight years after Clinton. If he had, O'Reilly's modern edition would have surely mentioned George W. Bush and FEMA's woeful 2005 response to the hurricane in New Orleans. Like Reagan before him, Bush was labeled a racist. For Reagan, because of his general policies (For instance, poor folks need not concern themselves with capital gains tax cuts, as O'Reilly notes), and for Bush, because of the response to Katrina. I'm sure there were other accusers, but most notably, rapper Kanye West made the charge in the wake of FEMA's response and Bush's delayed trip to New Orleans, which has a black population of about 70 percent. Later, Bush described that moment (West labeling him as a racist) as the worst part of his time in Washington. Here's a brief exchange from the "Today" show:
MATT LAUER: You remember what he (Kanye West) said?

PRESIDENT GEORGE W. BUSH: Yes, I do. He called me a racist.

MATT LAUER: Well, what he said, "George Bush doesn't care about black people."

PRESIDENT GEORGE W. BUSH: That's — "he's a racist." And I didn't appreciate it then. I don't appreciate it now. It's one thing to say, "I don't appreciate the way he's handled his business." It's another thing to say, "This man's a racist." I resent it, it's not true, and it was one of the most disgusting moments in my Presidency.
Later still, Kanye, in not so few words, said he was sorry in November 2010 on the "Today" show:
I would tell George Bush in my moment of frustration, I didn't have the grounds to call him a racist.
And Bush back across the bow on another episode of "Today":
Asked if he forgives West, Bush said "absolutely."

"I'm not a hater. I don't hate Kanye West," he said. "But I was talking about an environment in which people were willing to say things that hurt. Nobody wants to be called a racist, if in your heart you believe in the equality of race."

***
There's much more to be said, of course, and O'Reilly says most of it in the eras in which he was dealing. Ronald Reagan had one of the worst records on race and so did Richard Nixon, hence the piano symbolism, which stems from a racially mocking song Nixon performed at a Gridiron Club event while president. The analogy was later — consciously or not — turned on its head by Paul McCartney and Stevie Wonder's "Ebony and Ivory."
If O'Reilly had the chance to cover the election of the first African American to the presidency, his ultimate conclusions might have taken a slightly different tone, for, the more progressive among us would like to think that we as a nation are finally turning the corner on race. But, like the Reagan appointment of Republican lackey Clarence Thomas to the Supreme Court, we today can see some of the same conservative tactics astir of putting black people in high places only for political gain. Current Republican National Committee head Michael Steele immediately came to mind as I read the portion on Thomas. Of course, black folks are free to lean whichever political way they choose, but we know which party, since the 1960s has, implicitly or explicitly, done the most for civil rights and black communities, even though affluent black leaders may overlook that fact and politically betray their historically subdued brethren. Modern Republicans leaders, in turn, betray themselves when they refer to their party as the party of Lincoln, for it is such in word only.
In all, "Nixon's Piano" was an intriguing, but challenging read, given the many politicians, aides and activists of which one must keep track. The book moves quickly, with clearly written but tightly packed text, providing a near fly-on-the-wall look at each president's approach to race from Roosevelt to Clinton, with private conversations, leaked and even wire-tapped exchanges, all of which culminate in the numbing conclusion that a scant few, if any, of our presidents felt that civil rights or racial, social and political equality for all was an outright moral imperative.
Rating:
http://www.amazon.com/Nixons-Piano-Presidents-Politics-Washingtion/dp/0029236851/ref=sr_1_1?s=books&ie=UTF8&qid=1293999889&sr=1-1 [↩]
StumbledUpon this fascinating tool called Buzztracker that maps relationships between news stories and locations across the world. A map is generated each day using the top articles in global coverage and then in connect-the-dots fashion, shows viewers the proceeding web of interrelationships. Thus, for instance, stories about Gaza appearing in newspapers from across the world also saw associations with Washington, D.C., London, New York and seven other places. Connectedness with Washington, D.C., was at 29 percent as it relates to Gaza, while connectedness with Zahedan was only at 5 percent as Zahedan relates to Gaza. Confusing at first but when you see the map, it makes more sense.
Here is the map for June 20. You can click on each red dot to see related stories and stats.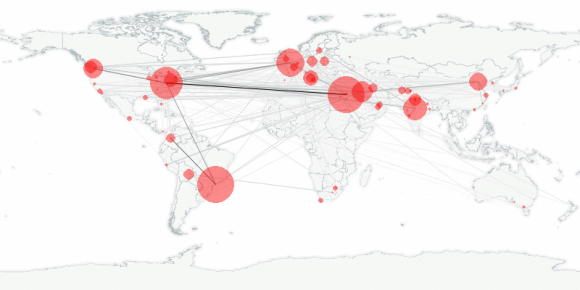 Rachel Maddow on Tuesday made light of the New York Times story (on which I commented here) that presents the painfully obvious, yet lost to some, point that picketing against the government after having traveled to a public park via public transit is profoundly illogical. As if that wasn't nonsensical enough, some took the irony to a new level, saying that Washington, D.C.'s public transit system was inadequately prepared to handle the crowds who would be coming to Washington to protest the government. From The Wall Street Journal:
Protesters who attended Saturday's Tea Party rally in Washington found a new reason to be upset: Apparently they are unhappy with the level of service provided by the subway system.

Rep. Kevin Brady asked for an explanation of why the government-run subway system didn't, in his view, adequately prepare for this past weekend's rally to protest government spending and government services.

Seriously.
Seriously, how can we possibly take these folks seriously?
Visit msnbc.com for breaking news, world news, and news about the economy
President Barack Obama delivered his first State of the Union address tonight before Congress. I would have live blogged it, supplying my oh-so timely and thought provoking comments, but these folks, Andrew Sullivan, with The Atlantic, and Jeff Zeleny, with The New York Times, were blogging by the minute and did it as well or better than I could (and Zeleny was possibly at the Capitol), so read their stuff for the play-by-play.
But to briefly comment, I thought the speech did everything it needed to do in outlining what he felt were accomplishments in 2009 (The full text is here. I feel no need to regurgitate what he already said) and charting the path forward. Of course, I was most interested in what he had to say about the health care debacle, since I'm one of the folks he's referring to in this comment:
Now let's be clear – I did not choose to tackle this issue to get some legislative victory under my belt. And by now it should be fairly obvious that I didn't take on health care because it was good politics.

I took on health care because of the stories I've heard from Americans with pre-existing conditions whose lives depend on getting coverage; patients who've been denied coverage; and families – even those with insurance – who are just one illness away from financial ruin.
The key point for me here is "even those with insurance." Forget the uninsured. OK, don't forget them! But the larger point is that even if you take the uninsured out of the equation, this country still has thousands of folks with company insurance who are still financially crippled by the difference between their medical needs and bills versus their salaries and insurance coverage.
Obama, of course, was his typical spirit-raising self and poked fun at himself and what has come to be "politics as usual" on the Hill. But at no point did his jest turn serious than when he said the following, which was the highlight of the speech in my mind in which Obama pwned 60 senators in the chamber:
So no, I will not give up on changing the tone of our politics. I know it's an election year. And after last week, it is clear that campaign fever has come even earlier than usual. But we still need to govern. To Democrats, I would remind you that we still have the largest majority in decades, and the people expect us to solve some problems, not run for the hills. And if the Republican leadership is going to insist that sixty votes in the Senate are required to do any business at all in this town, then the responsibility to govern is now yours as well. Just saying no to everything may be good short-term politics, but it's not leadership. We were sent here to serve our citizens, not our ambitions. (emphasis mine). So let's show the American people that we can do it together. This week, I'll be addressing a meeting of the House Republicans. And I would like to begin monthly meetings with both the Democratic and Republican leadership. I know you can't wait.
This is certainly not all that needs to be said about the speech, but it's a start. Some were touting it as Obama's most important speech of his presidency. Probably so, given the recent health care stalemate and the election of Scott Brown in Massachusetts to replace Ted Kennedy. And, given that it's his first SOTU after the $787 billion stimulus plan. If it was his most important, I would wager it was his most effective thus far, gauging by the reaction from fellow lawmakers on both sides of the aisle. We can only hope the end result is true bipartisanship on critical issues like health care and that lawmakers' "need to govern" once and for all supercedes their need to get elected. In this, I'm not confident, but I'm hopeful.
As a frequent browser of The Atlantic magazine's Web site, today I happened across James Fallows' blog. Fallows is a well-known, heralded writer and reporter for the print edition, and like most everyone else who takes up the pen, he's hit the blogosphere.
In a recent post, he highlighted a tool for assessing which words were used more frequently in presidential inaugural addresses. The site does most of the work for us, and lists each president's speech straight from Washington to Obama, but it would be an interesting study for someone to perform an indepth analysis of the 44 addresses and the word choice down through the generations. Perhaps someone already has. Anyway, the tool behind this idea is something called Wordle, which gives us a visual representation of the most oft-uttered words of any text. The words used the most are bigger, while the least-used words appear smallest in the computer-generated model. To have some fun, go here and enter or cut and paste some text. You can hit the "Randomize" button for different appearances or use the "Layout" and "Color" options to change them yourself. Going back to the previous idea about inaugural addresses, here is Washington's quite brief address visualized,
and here is Obama's, rendered in the same font and style for comparison:
Also, here are a few of my own posts, rendered in different styles. The following creations are rather "tame" versions, all on a white background, but some other designs are more intriguing. Here are three of mine. They link to the original post:
.
After dancing until after midnight with wife, Michelle during an inaugural ball, Barack Obama arrived for work at 8:35 a.m. Wednesday and undertook these actions:
Read a customary good luck note from former President George W. Bush, which was introduced thusly: For #44 to #43;
Attended a prayer service
Had aides circulate a note calling for the closing of Gitmo within a year. In the meantime, stop all war crime trials;
Held a meeting with Vice President Joe Biden and military officials on the latest from Afghanistan and Iraq. According to The Associated Press, "Obama asked the Pentagon to do whatever additional planning necessary to 'execute a responsible military drawdown from Iraq;'"
Made calls to leaders in the Middle East, including Israeli, Palestinian, Jordian and Egyptian leaders;
Imposed a pay freeze to aides who make $100,000 or more;
Within hours of being sworn in, his administration, "… froze last-minute Bush administration regulations before they could take effect. Among them was an Interior Department proposal to remove gray wolves from Endangered Species protections in much of the northern Rocky Mountains, and a Labor Department recommendation that would allow companies that manage employee retirement plans to market investment products to plan participants; and
"Obama and his wife also played host and hostess for a select 200 at an open house."Enjoy yourself, roam around," a smiling Obama told one guest.

"Don't break anything." — The Associated Press